Institute Faculty 2017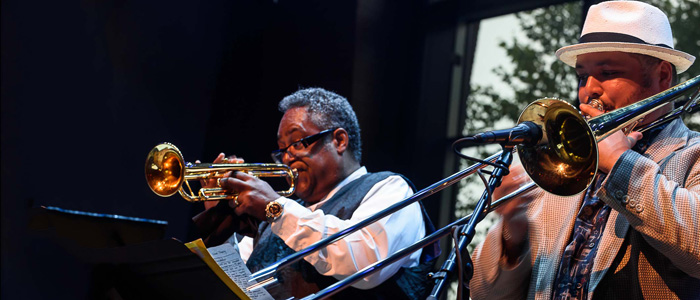 Jon Faddis and Michael Dease, Skidmore Faculty Septet Concert, 2016 - Photo by Rudy Lu
Click the name of each faculty member to jump to their full bio.
Former Institute faculty members can be seen here.

Todd Coolman - Director

Grammy Award-winning bassist and educator, Coolman has performed and recorded with top jazz artists such as Horace Silver, Gerry Mulligan, Stan Getz, Benny Golson, Art Farmer, Lionel Hampton, Benny Goodman, Slide Hampton, Jon Faddis and James Moody. A Professor of Music at SUNY Purchase, he is a recipient of SUNY's Chancellor's Award for Excellence in Teaching and holds a Ph.D. from New York University. Coolman works worldwide as a clinician and lecturer. Recent recordings include Our Delight, Perfect Strangers, and 4B, the last recording of James Moody and winner of the 2011 Grammy Award for Best Jazz Instrumental Album. An forthcoming album entitled "Collectables" with his trio Trifecta (Bill Cunliffe and Dennis Mackrel) is expected out this year.
Mark Beaubriand - Academic Advisor & Saxophone
A graduate of the University of Miami with a master's degree in jazz pedagogy, Mark Beaubriand is currently chair of the Music Department and director of band and jazz band at Saratoga Springs High School. Under his direction, the Saratoga Springs High School Jazz Ensemble has won many New York State and national awards and has commissioned works by Frank Mantooth, Jeff Jarvis, and Jim Snidero. Beaubriand is a frequent performer in the northeast and has appeared with the Manhattan Transfer, New York Voices, Johnny Mathis, Aretha Franklin, Natalie Cole, Rosemary Clooney, Liberace, and Bobby Vinton.
Peter Bernstein - Guitar & Combo Leader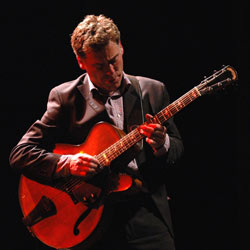 Jazz guitarist Peter Bernstein has been a part of the jazz scene in New York and abroad since 1989. During that time he has participated in numerous recordings and performances with musicians from all generations. He has appeared in groups led by Sonny Rollins, Bobby Hutcherson, George Coleman, Lou Donaldson, Dr. Lonnie Smith, Fathead Newman, Joshua Redman, Brad Mehldau, Diana Krall, Lee Konitz, Jimmy Cobb and more. As a leader, he has released nine albums and a DVD. Current projects include his album, Monk (Xanadu Records, 2008), with Doug Weiss and Bill Stewart; a recently released solo record, Solo Guitar – Live at Smalls (SmallsLIVE, 2013); and playing with organist Larry Goldings and drummer Bill Stewart.
Bill Cunliffe - Piano & Combo Leader
Pianist, composer and Grammy Award-winning arranger Bill Cunliffe has worked with legends including Buddy Rich, Frank Sinatra, Ray Brown, Joe Henderson, Freddie Hubbard and Art Farmer. He currently performs with his trio; his big band; his Latin band, Imaginación; and his classical-jazz ensemble, Trimotif. Recent releases include his trio album "River Edge, New Jersey," and his Overture, Waltz and Rondo for jazz piano, trumpet and orchestra, which won Cunliffe his fifth Grammy nomination for Best Instrumental Composition. Cunliffe is a jazz studies professor at Cal State Fullerton. He received his master's degree from the Eastman School of Music and was the 1989 winner of the Thelonious Monk International Piano Competition.
Michael Dease - Trombone & Combo Leader
Michael Dease has emerged as one of the premier jazz trombonists of his generation. Born in Augusta, Georgia, the "Deep South", Dease played the saxophone and trumpet before choosing the trombone. He was a self-taught high school senior when he moved to New York in 2001 to study at the Juilliard School where he earned his Bachelor and Master degrees. Dease quickly established his reputation as a soloist and sideman, recording 4 albums as a leader and logging over 100 sessions as a sideman, all before the age of 30. His 4 critically praised releases as a leader include: The Takeover (2005), Clarity (2007), Dease Bones (2008) and Grace (2010).
His latest album, Coming Home on D Clef Records features pianist Renee Rosnes, bassist Christian McBride, drumer Ulysses Owens Jr, and saxophonist Steve Wilson, plus a guest appearance by tenor sax man Eric Alexander. The Grammy award-winning trombonist, has played with many of today's foremost jazz orchestras, including those led by Wynton Marsalis, Christian McBride, Roy Hargrove, Nicholas Payton, Charles Tolliver and Rufus Reid. Dease has also performed with Winard Harper, Renee Rosnes, Bill Charlap, Claudio Roditi, The Heath Brothers, Lewis Nash, Alicia Keys, Paul Simon, Paul Schaffer and the CBS Orchestra, Elton John, Neal Diamond, Illinois Jacquet, Slide Hampton, Fred Wesley, Maceo Parker, WDR Big Band, George Gruntz, Billy Harper, and numerous others. He learned his craft from trombone legends Wycliffe Gordon and Joseph Alessi and is frequently asked to host master classes in the U.S. and abroad. Dease teaches jazz trombone full time at Michigan State University and has also been on faculty at Queens College CUNY, The New School and Northeastern University. In addition to leading his own quartet, quintet and sextet, he conducts his own 17-piece big band.
Jon Faddis - Trumpet & Combo Leader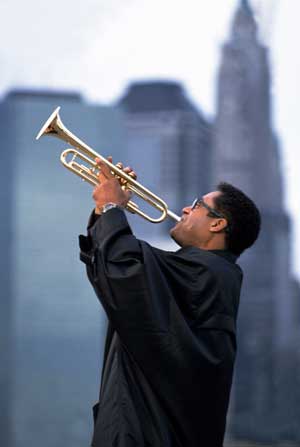 Jon Faddis joined Lionel Hampton's band as a featured soloist, moving from Oakland, CA to New York. Shortly after arriving in Manhattan, Faddis was invited to sit in with the Thad Jones/Mel Lewis Orchestra at the Village Vanguard; he rapidly became lead trumpeter for the band, touring the world. He soon formed his own quartet, and began directing orchestras, including the Grammy-winning United Nation Orchestra, the Dizzy Gillespie 70th Birthday Big Band, the Dizzy Gillespie Alumni All-Stars, the Chicago Jazz Ensemble (2004-2010), the Carnegie Hall Centennial Big Band, the Carnegie Hall Jazz Band (1992-2002), and the Jon Faddis Jazz Orchestra of New York (2003-present). Faddis has also served as guest conductor and featured guest with the Lincoln Center Jazz Orchestra and the San Francisco Symphony Orchestra.
Jon Faddis' distinctive trumpet appears on hundreds of records and numerous soundtracks for film and television. Faddis' original compositions include the Jazz opera Lulu Noire (1997) (named a "Top 10" pick by USA Today); other Faddis compositions may be heard on his Grammy-nominated Remembrances (Chesky 1998), Hornucopia (Epic 1991), Into the Faddisphere (Epic 1989), and TERANGA (Koch 2006).
Jon Faddis is known throughout the world as one of the most innovative and inspiring jazz trumpeters of our time. He has an unfailing commitment to the education of young musicians and frequently conducts clinics and master classes to help the next generation of jazz musicians. In Chicago, Faddis served as the Jazz Institute of Chicago's first mentor for the Jazz Links program and also created the Louis Armstrong Legacy Program. Faddis is a full-time faculty member at the Conservatory of Music, Purchase College-SUNY, where he began in 1999 as Artist-in-Residence, becoming shortly after Professor and Director of Jazz Performance. Faddis holds the first-ever honorary doctorate in Jazz from Manhattan School of Music (which he attended for about a semester when he was 18), as well as numerous other accolades and awards.
Jimmy Greene - Tenor Saxophone & Combo Leader
A native of Hartford, CT, saxophonist, composer, and educator Jimmy Greene has emerged as a positive presence in the jazz world. His 9 solo recordings, including his most recent Live at Smalls (SmallsLive), have been met with much critical acclaim. Greene was First Runner-Up in the 1996 Thelonious Monk International Jazz Saxophone Competition, and was named one of the "25 Young Rising Stars in Jazz" by DownBeat Magazine in 1999. He graduated from the Hartt School in 1997 and received his Masters in Music Education from Boston University in 2012. He is currently a doctoral candidate in Jazz Arts at the Manhattan School of Music. His mentors include Jackie McLean, Jim McNeely, Garry Dial, Justin DiCioccio, David Liebman, Dave Santoro, Kris Jensen, Steve Davis, Ken Radnofsky and Janet Arms.
His Quartet performs regularly in jazz venues, festivals and clubs worldwide. In addition to his recordings and appearances as a leader, Greene appears on over 70 albums as a sideman, and has toured and/or recorded with Horace Silver, Tom Harrell, Freddie Hubbard, Harry Connick, Jr., Avishai Cohen, Kenny Barron, Lewis Nash, Steve Turre, the New Jazz Composers Octet and the Carnegie Hall Jazz Band, among many others. Greene is Assistant Professor of Music and Co-Coordinator of Jazz Studies at Western Connecticut State University in Danbury, CT and has previously taught at the University of Manitoba, Purchase College (State University of New York), the Hartt School (University of Hartford) and the Greater Hartford Academy of the Arts. Greene has given clinics and master classes throughout the United States, Canada, Brazil, Israel and Russia.
Jimmy was nominated for two Grammy's in 2015, one for his latest recording, Beautiful Life (Mack Avenue), in the Best Jazz Instrumental Album category and "When I Come Home," a reworking of Greene's song "Home" (with vocals by CT native Javier Colon), in the Best Arrangement, Instruments and Vocals category.
Teacher and percussionist Bob Halek is a native of upstate New York. As a musician, his versatility keeps him very active recording and performing with artists from many different disciplines: Big Band, Jazz, Latin, Funk, Country, Classical and R&B. He has performed on the Food Network, Newport Jazz Festival, as well as concerts, festivals and clubs throughout the Northeast. His current schedule includes performances with The Empire Jazz Orchestra, Keith Pray's Big Soul Ensemble, The Capitol Region Wind Ensemble, City Rhythm and various club bands. Halek was named the 2012 district wide teacher of the year in the East Greenbush School District where he teaches instrumental music. He also has appeared as a clinician and guest conductor for various concert bands, jazz bands and percussion ensembles.
Vic Juris - Guitar & Combo Leader
A native of Jersey City, N.J., Victor Juris took up guitar at age 10, in 1963. By the mid-1960s, he was playing with rock and R&B bands in his area. He discovered jazz in his late teens and subsequently studied with Philly jazz guitar legend Pat Martino. In 1975, Juris made his recording debut on alto saxophonist Eric Kloss' Bodies' Warmth (Muse). He later gigged with fusioneer Barry Miles before hooking up with alto-sax burner Richie Cole, appearing on two hot, boppish offerings in 1977's Alto Madness and 1978's Keeper of the Flame (both on Muse). In the early '80s, Juris immersed himself in acoustic guitar, performing duets with Larry Coryell and Biréli Lagrène, and by the late '80s he joined bassist Gary Peacock's group.
Juris has been a member of the David Liebman group since 1991. This band has recorded 10 CDs, traveled throughout Europe, Japan, Israel, and the United States throughout the 1990s and is still going strong. He was a member of the Gary Peacock Quartet and musical director of the Charles Mingus Guitar Quintet. Juris performed at George Wein's J.V.C. Festival, in duets with John Abercrombie and Russell Malone. He has also performed with Jeremy Steig, James Moody and Charlie Mariano to name a few.
As a leader Juris performs in the United States and in European venues. His own quartet includes saxophonist Dick Oatts. His band has recorded albums on Steeple Chase, Night Tripper, Pastels (1997), Moonscape (1998), and Remembering Eric Dolphy (2000). His CD Songbook hit top 10 pics in 2000. Juris has also recorded on Double Time Records' Music of Alec Wilder. His 2004 release of Blue Horizon listed him as top pics for the year 2004. Juris teaches at Rutgers University and Lehigh University and has conducted clinics throughout the United States and Europe.
Brandon Lee - Trumpet & Combo Leader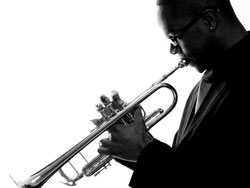 Brandon Lee was born and raised in Houston, Texas and attended the Houston High School for the Performing and Visual Arts. While there, Wynton Marsalis invited him to perform with the Lincoln Center Jazz Orchestra for a PBS special honoring Louis Armstrong. He went on to become one of the 18 students chosen for the inaugural Jazz Studies program at the Juilliard School, and received his Bachelors Degree in 2005 and his Masters Degree in 2007. He has performed with Benny Golson, Kenny Barron, Ray Brown, Clark Terry, Hank Jones, Carl Allen, the Vanguard Jazz Orchestra, and Christian McBride Big Band among others. Lee has two recordings as a leader: From Within and Absolute-Lee, and plays frequently with his own group and as a sideman. He is a former member of the faculty at the Juilliard School, been the assistant conductor of the jazz orchestra, and served as the Artistic Coordinator of Educational Outreach. He is currently on the faculty of the University of North Carolina-Greensboro, teaching in the Miles Davis Jazz Studies Program. Lee is also a former participant at the Skidmore Jazz Institute.
Dennis Mackrel – Drums & Combo Leader
Mackrel got his start playing in the Count Basie Orchestra in 1983, and would be the last drummer hired by Mr. Basie personally. Since then has played with an impressive list of ensembles, including the Village Vanguard Orchestra, Carla Bley Very Large Band, Slide Hampton and the Jazz Masters, the Hank Jones Trio, Manhattan Symphony Jazz Orchestra, Maria Schneider Jazz Orchestra, and the American Jazz Orchestra. Mackrel's compositions have been recorded and performed internationally, most notably by the McCoy Tyner Band, who's Grammy-Award-winning CDs The Turning Point (Verve Records, 1992) and Journey (Verve Records, 1993) included Mackrel's arrangements. He has also played with a host of other musicians that include Monty Alexander, Tony Bennett, Quincy Jones, Hank Jones and Sir George Shearing. In 2010 Mackrel returned to the Count Basie Orchestra and served as the ensemble's leader and chief conductor until 2013. Since 2015 he has been the chief conductor of the Jazz Orchestra of the Concertgebouw in Amsterdam, Holland. Mackrel is also currently a professor at Queens College.
Dick Oatts – Saxophone & Combo Leader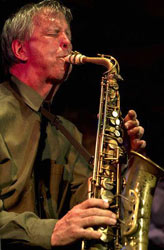 In 1977 Dick Oatts moved to New York City and became a member of the Thad Jones-Mel Lewis Orchestra. Since then he has recorded and toured with small groups such as Red Rodney, Eddie Gomez, Vic Juric, Bob Brookmeyer, Mel Lewis, Dom Salvador, Jerry Bergonzi, Flim & the BB's, Fred Hersch, Dave Berkman, Soren Moller, Terell Stafford, Jon Faddis, Lalo Schiffrin, and Ray Mantilla. His big band and larger group experience include performances with the Vanguard Jazz Orchestra, Mel Lewis, Carnegie Hall Jazz Band, Lester Bowie, Joe Lovano, Sam Jones-Tom Harrell, Paquito D'Rivera, Jim McNeely, Tito Puente, and Gunther Schuller. Oatts has also been featured with the Stockholm Jazz Orchestra, Danish Radio Big Band, Norboton Jazz Orchestra, Metropole Orchestra, and the UMO Big Band in Helsinki. He has accompanied such vocalists as Joe Williams, Sarah Vaughn, Ella Fitzgerald, Neene Freelon, Mel Torme, and Milton Nascimento. He has recorded solos for pop artists Luther Vandross, James Taylor, and Everything But the Girl. Oatts has recorded many albums as a leader, and recent releases include Sweet Nowhere (Steeplechase, 2014) and Lookin Up (Steeplechase, 2012). He is currently a professor of Jazz Studies at Temple University, and been an artist-in-residence at the Amsterdam Conservatory since 1997. He has appeared as a soloist and clinician throughout the United States, Europe, Asia, Canada, South America, and the Middle East.
John Nazarenko - Avid ProTools Workshop
John Nazarenko is Senior Artist-in-Residence at Skidmore College and a renowned jazz pianist. He is also a music producer and engineer and has owned and operated The Creek Studio, a full production facility offering complete recording services, since 1980. Nazarenko is also on the faculty at Williams College, directs the jazz ensemble at the Luzerne Music Center, and has authored several books in jazz studies. He performs as a soloist with numerous ensembles at jazz clubs and concert venues and has recorded with Eric Harland, Reuben Rogers, Chuck D'Aloia, and Colleen Pratt among others. His latest live recording project features Eric Harland and Matt Penman and is due for release in 2013.
Rufus Reid – Bass & Combo Leader
Legendary bassist Rufus Reid has a career spanning over 50 years. He has over 400 recordings in his discography, and has toured with Eddie Harris, The Thad Jones &Mel Lewis Jazz Orchestra, Nancy Wilson, Dexter Gordon, Jack DeJohnette, J.J. Johnson, Benny Golson, Art Farmer, Stan Getz and Kenny Burrell to name only a few. He has 18 recordings under his own name and his most recent release, Quiet Pride-The Elizabeth Catlett Project (Motéma Music, 2014) was Grammy-Nominated for Best Large Jazz Ensemble and Best Instrumental Composition. As a composer, he has completed small and large jazz ensemble works and numerous big band pieces and arrangements. His composition for Symphony Orchestra earned him a John Simon Guggenheim Memorial Foundation Fellowship for Composition in 2008. When he is not composing, Reid leads the "Out Front" Trio, the "Hues of a Different Blue" Sextet, and the "Live at The Kennedy Center" Quintet. He is equally known as an educator, and his book The Evolving Bassist, originally published in 1974 continues to be recognized as the definitive bass method and has been re-released in hard cover and DVD. Reid conducts workshops and clinics in the US and abroad.
John Riley - Drums & Combo Leader
Critically acclaimed performer, author and teacher, John Riley has worked with the world's leading Jazz musicians for over 30 years. A three time GRAMMY award winner and 13 time nominee, John has played on hundreds of recordings and at major venues with Miles Davis, Dizzy Gillespie, Stan Getz, Woody Herman, John Scofield, Joe Lovano, Bob Mintzer, The Carnegie Hall Jazz Band, the Vanguard Jazz Orchestra and many others.
John is the author of The Art of Bop Drumming, currently published in five languages, Beyond Bop Drumming, The Jazz Drummer's Workshop and the DVD The Master Drummer.
John has a BM in Jazz Studies from the University of North Texas, 1975, and an MM in Jazz Studies from the Manhattan School of Music, 1985. He is on the faculty of Manhattan School of Music and SUNY Purchase, an Artist in Residence at the Amsterdam Conservatory in Holland and has given master classes around the world.
David Wong - Bass & Combo Leader
Bassist David Wong was born and raised in New York City. In 2004, he graduated from the Juilliard School in classical music. He has studied with Orin O'Brien (New York Philharmonic), Ron Carter, Ben Wolfe, and John Clayton. He is currently a member of Roy Haynes' "Fountain of Youth" band, The "Heath Brothers" Quartet – led by jazz legends Jimmy Heath and Albert "Tootie" Heath, The Benny Green trio, and the Vanguard Jazz Orchestra. Wong was also the last bass player in Hank Jones' "Great Jazz Trio" and is featured on the piano master's last recording. He has performed in many of the major concert halls and jazz clubs throughout the United States, Europe and Asia.
He can also be seen regularly performing with Steve Kuhn, Brian Lynch's "Unsung Heroes Project", Ralph Lalama's "Bop Juice", the Jeb Patton Trio, the Dan Nimmer Trio, the Aaron Diehl Trio, Ray Gallon, Grant Stewart, Dmitry Baevsky, and Sachal Vasandani. He has recorded with Hank Jones, Roy Haynes, Jimmy Heath, Albert "Tootie" Heath , The Vanguard Jazz Orchestra, Benny Green, Dick Oatts, Joe Magnerelli, Wycliffe Gordon, Russell Malone, Brian Lynch, John Marshall, Grant Stewart, Dmitry Baevsky, Fabien Mary, and Walt Weiskopf. Wong has performed with Clark Terry, Frank Wess, Joe Wilder, Jimmy Wormworth, Illinois Jacquet, Lou Donaldson, Barry Harris, Slide Hampton, Andy Bey, Bill Charlap, Bennie Wallace, Wynton Marsalis, Terell Stafford, Gary Smulyan, Eric Reed, Michael Weiss, Kenny Washington, and Lewis Nash. Wong is a former participant at the Skidmore Jazz Institute and is currently an adjunct professor at the New School and Queens College.

Administration
Donald McCormack - Program Consultant
As Dean of Special Programs at Skidmore College, Don McCormack founded the Skidmore Jazz Institute in 1987. Under McCormack's 20-year tenure as dean, the College offered nationally recognized programs in the arts, among them the NYS Summer Writers Institute, Skidmore Summer Dance Workshop, Skidmore Summer Flute Institute, SITI Company Summer Theater Workshop and the Summer SIX Art Program. A long-time advocate for arts education, McCormack has been the inspiration and the impetus for creating artistic residencies and scholarship funds that serve disadvantaged students. Currently he serves on the Board of Directors at the Saratoga Performing Arts Center.
Gerald Zaffuts - Program Consultant
Gerald Zaffuts is the founding Director of the Skidmore Jazz Institute (1987-2007) and was instrumental in starting the College's jazz program in the early 80's. A graduate of the University of Northern Colorado, he has also taught at Bennington College, SUNY Albany and Schenectady Community College. Zaffuts was principle trombone with the Colorado Fusion Orchestra under the direction of Pat Williams and has performed with the Philadelphia Orchestra, The Bach Choir of London, and at the Newport and Kool Jazz Festivals as well as with a wide variety of recording artists and entertainers. He has recorded with the New Columbian Brass Band and The New Walnut Street All-Star Orchestra, and worked as a post-session producer for Dorian Recordings. In 2011 he received the Olmsted Award for Excellence in Secondary Teaching from Williams College.
Brian Carucci – Administrative Coordinator
Brian Carucci is a band director at Shenendehowa High School where he teaches Wind Ensemble, Symphonic Band, and two Jazz Ensembles. In addition, he is the pit orchestra director for the Shenendehowa High School Musical and the advisor of the Shenendehowa chapter of the Tri-M Music Honor Society.
Carucci serves as Assistant Conductor for the New York State Summer School for the Arts (NYSSSA), School of Orchestral Studies Wind Ensemble and is the Administrative Coordinator for the Skidmore Jazz Institute. An adjunct clarinet instructor at Schenectady County Community College, Carucci is also an active woodwind adjudicator for the New York State School Music Association (NYSSMA).
Carucci has performed with the Northern Symphonic Winds, the Capital District Wind Ensemble, the Schenectady Light Opera Company (SLOC), and the Glens Falls Symphony. He holds a Bachelor's degree in Music Education and Master's degree in Music Performance from Crane School of Music.