John B. Moore Documentary Studies Collaborative


Director | Mellon Fellow | Program Coordinator | Advisory Board | Faculty | Student Assistants
Jordana Dym is the inaugural Director of the John B. Moore Documentary Studies Collaborative and Professor of History. Her research and teaching interests include Latin America, the history of cartography and public history. She joined the Skidmore faculty in 2000 after undergraduate studies in History and a master's in Russian Studies at Stanford University (1989), a stint in the Foreign Service, and graduate studies at New York University (PhD, 2000). Student research collaborations include research for an exhibit of declarations of independence in Mexico's national archives (2010), cataloguing and scanning a private collection of Guatemalan historical documents to preserve the materials for scholars (2012-2013), and a Saratoga Springs map exhibit in partnership with the Saratoga Springs History Museum, Public Library and City Historian's Office (2015). In addition to spearheading a public history initiative in the History Department, she shepherded the creation of the Latin American Studies Minor program (2002, director 2007-2011), and helped organize the 2004 Skidmore-Saratoga Springs Film Forum Haiti film festival which hosted leading writers and filmmakers on campus. She has enjoyed sharing her love of travel with students on travel programs and collaborative research in France, Mexico, Guatemala, Puerto Rico and Cuba.
Her publications include From Sovereign Villages to National States: City, State and Federation in Central America, 1759-1839 (2006), an exhibit catalog, Declarando Independencias (Archivo General de la Nación, Mexico, 2010), five edited volumes, including Mapping Latin America: A Cartographic Reader (with K. Offen, 2011), and articles and book chapters in French, English and Spanish, and Portuguese. She has edited a journal, Mesoamérica (2008-2013), organized a 2012 virtual "cartographic conversation" for the John Carter Brown Library (2012), and serves on the executive committee of the Visual Cultures Section of the Latin American Studies Association. A recipient of several major research grants, including from the NEH (2003-2004) and John Carter Brown Library (2012), she spent 2013-2014 as a Humanities Writ Large Fellow at Duke University, working on The World Displayed: Western Travelers' Cartography, 1450-1930 and exploring digital humanities and documentary studies initiatives.
---
Visual and Digital Media Mellon Fellow
Nicky Tavares is a multimedia artist whose work spans from documentary to 16mm film to installation and sculpture. Nicky's work has been shown nationally and internationally in screening room and gallery contexts including New Directors/New Films (the Museum of Modern Art, New York & Lincoln Center), the Institute for Contemporary Art/Boston, TIE: The International Experimental Cinema Exposition, IMPAKT, the Dallas Medianale, the Balagan Experimental Film Series and the Hudson D. Walker Gallery. Among other honors, Nicky was awarded an Iqbal Fellowship at the Iqbal International Institute for Research and Dialogue in Pakistan where she conducted research on early Pakistani rock music. She has received two LEF Moving Image Fund Grants, a Massachusetts Cultural Council Grant and an Austin Film Society Grant. She was a cinematographer for the PBS series Arab American Stories and a Visual Arts Fellow at the Fine Arts Work Center in Provincetown, MA. She has an M.F.A in Film and Video from Massachusetts College of Art and Design. Currently Nicky is directing Son of a Bug, a documentary in production that explores early rock music in Pakistan.
---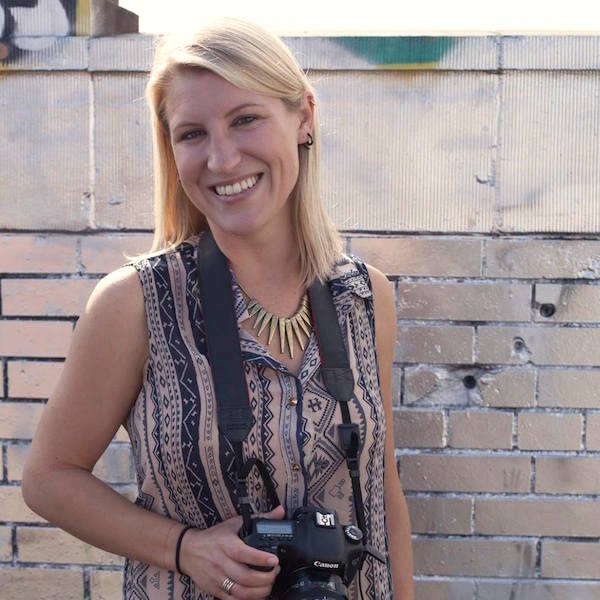 Jesse Wakeman is a documentary filmmaker whose work began at the award-winning Moxie Institute Film Studio + Lab in San Francisco, CA. She was the associate producer and assistant editor on many of Moxie's films including the Emmy-nominated series The Future Starts Here, and edited on the first films in the Let it Ripple nonprofit short film series including Free Speech and Engage. She also worked with over 2000 schools and nonprofit organizations involved in the Let it Ripple project, helping them to customize any of the 5 films for their outreach purposes.
She joined the MDOCS staff in the fall of 2015 after moving back to the east coast. She looks forward to helping students of all disciplines uncover important stories in their studies that allow us to look to the future through the lens and perspective of the past. Inspired by the challenge of highlighting the truth in the complex network of the digital landscape, she continues to explore the power of non-fiction storytelling. She has a B.S. in Video Production from Ithaca College's Roy H. Park School of Communications. www.jessewakeman.org
---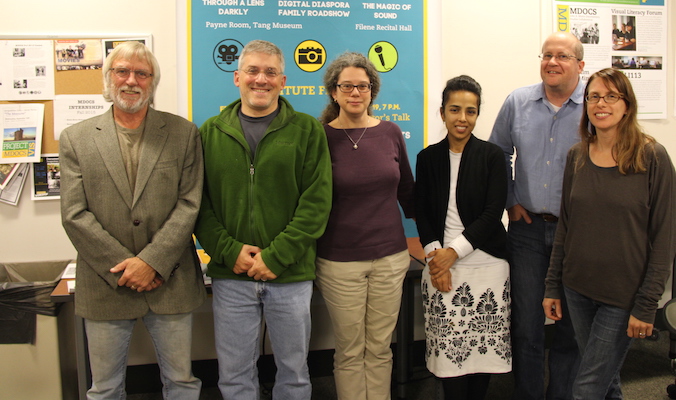 J.Segrave, D.Nathan, J.Dym, S.Waraich, D.Hurley, H.Hurst
To achieve its goals, MDOCS draws on the talents and creativity of Skidmore's faculty, students and staff. In its second year, MDOCS director Jordana Dym and the 2015/16 Advisory Board [Dan Curley (Classics); Heather Hurst (Anthropology); Dan Nathan (American Studies); Jeff Segrave (Health and Exercise Science) and Saleema Waraich (Art History) are helping to build the infrastructure, courses, activities and Storytellers' Institute.
---
R.Taylor, N.Tavares, M.McCabe, J.Dym, E.McAdams, V.Riley, N.Coady
MDOCS provides a wide range of documentary courses taught by Skidmore faculty and local professionals. The courses are open to all Skidmore students and qualify for credits towards the Media & Film Studies Minor. Courses cover topics such as video, photo and audio production, oral history, storytelling for the screen, documentary studies, and more. Visit the faculty page to learn more about the MDOCS instructors and courses for class descriptions.
---
LI 113 student staffer Ele Martinez '18 helping a fellow student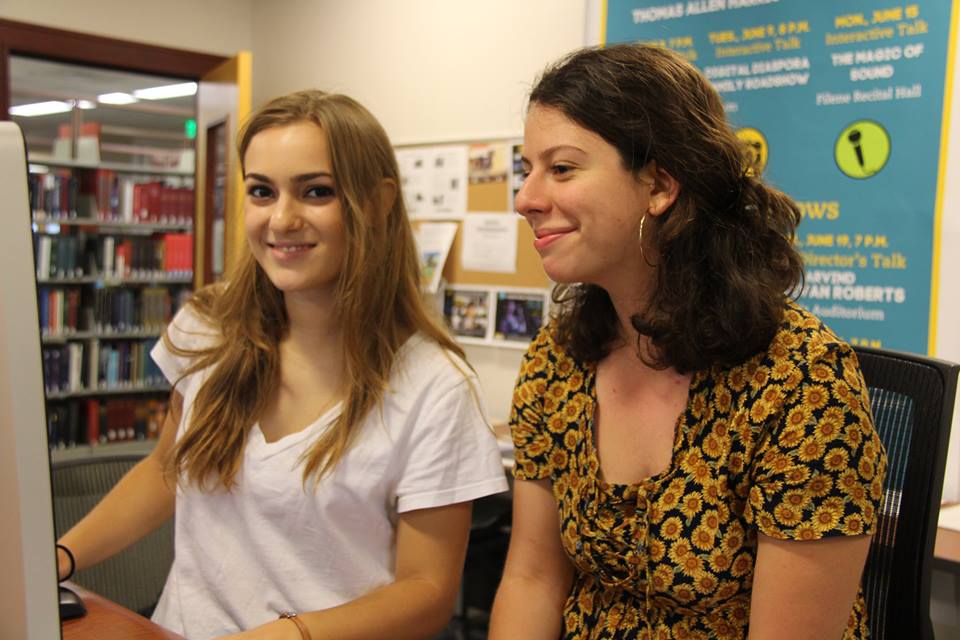 MDOCS student assistants Emily Rizzo '18, Rebecca Stern '16
Students with expertise in media production, storytelling, and design, staff the MDOCS/Project VIS Lab in Library 113 and hold workshops for the campus community. Additional student assistants are working with Dym to develop the Skidmore Saratoga Memory Project and MDOCS' online presence, including a monthly newsletter.