John B. Moore Documentary Studies Collaborative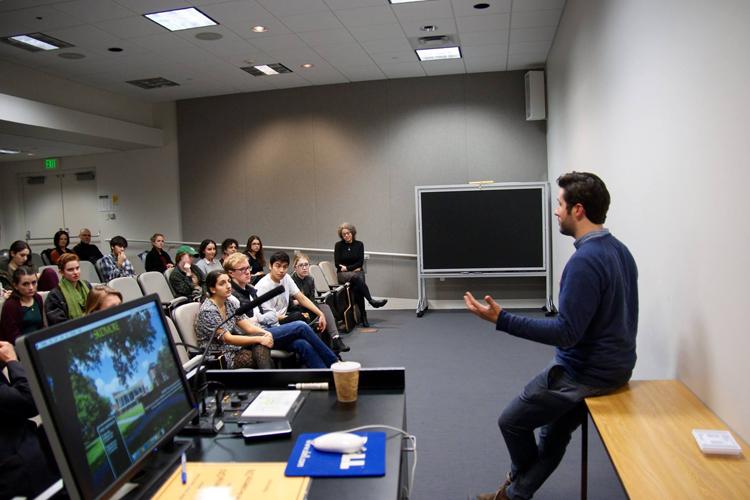 Evidence-based stories that matter—clearly, creatively, and compellingly told.
MDOCS is an interdisciplinary program presenting the stories of the human experience in documentary media and technologies: old and new; visual, oral, and written; analog and digital. Providing resources for and fostering collaborations between Skidmore's academic programs and documentary practitioners, MDOCS invites students, faculty, and staff to learn and use the documentary arts for critical inquiry, discovery, civic engagement, and exposition.
MDOCS News
MDOCS' February/March 2017 newsletter released! Get the insider's scoop on doc events, projects, courses, and more.
MDOCS, on its own and in partnership with individuals and programs, offers classes in the principles of documentary and instruction in documentary filmmaking, audio storytelling, and exhibition, among other documentary forms.
In addition, the Skidmore-Saratoga Memory Project, Storytellers' Institute and internships support Skidmore students, faculty, and staff as they develop documentary projects in partnership with the community.
Why MDOCS?
Documenting in the present tense has never been easier. MDOCS connects today's student documentarians to storytelling traditions, practices, and skills that will help shape the future.
Students can imagine taking a documentary-writing course to shape a capstone paper into a compelling story, then workshopping over the summer with a documentarian to prepare that story for a public audience. Faculty may tease out the story at the heart of an academic book or article. Will the story work best as a short film? Broadcast as a radio interview? Exhibited at city hall? Published as a photo essay online? Whatever discipline, whatever method, whatever story needs telling—personal, local, national, global—MDOCS can provide resources and tools to translate idea to a documentary project and to integrate classroom and fieldwork.
In its approach to documentary storytelling, MDOCS
integrates liberal arts questions and analysis with documentary fieldwork and production
fosters partnerships connecting individual academic and artistic learning and expression with attention to community goals
offers instruction in documentary skills in audio, film/video, photography, and narrative writing
explores the history and contemporary expression of documentary traditions, practices, and values
encourages students to experiment with different documentary media
builds on traditional tools of oral, written, and visual presentation
supports documentary programming across campus