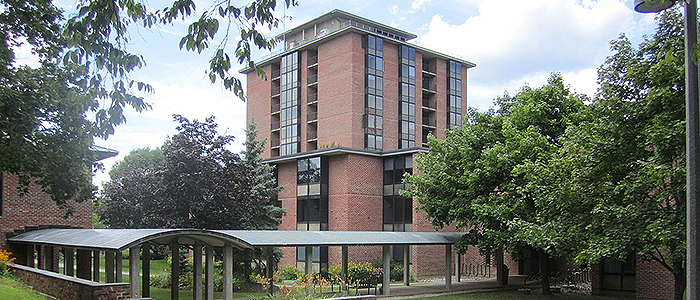 Skidmore College Health Services provides accessible, caring, high-quality, cost-effective health care to a diverse student population. Health Services partners with students, their primary care providers, the campus community and the greater Saratoga Springs healthcare community. We are dedicated to respecting and protecting patient rights and interests, and educating our students, faculty, staff, and ourselves.
Location

Jonsson Tower, first floor




Hours (Summer Hours & Services below)

Monday-Friday
9am - 12pm
1pm - 4:30pm
(closed 12-1 for lunch)

Sunday
12pm - 5pm
Sundays are reserved for walk-ins only.
There are no appointments available.

Contact Us

Email
health@skidmore.edu

Phone
518-580-5550

Fax
518-580-5556

Mail
Health Services
Skidmore College
815 North Broadway
Saratoga Springs, NY 12866












SUMMER HOURS AND SERVICES STARTING MAY 22ND
CLOSED MAY 23RD FROM 12-2PM
CLOSED WEEK OF MAY 29-JUNE2ND
Monday - Friday: 9-11:30AM and 12-3PM
Current Skidmore students returning for the fall semester are eligible to receive services if:
working on campus
OR
taking summer classes/internships through Skidmore
OR
doing research on campus
All participants in a Skidmore sanctioned summer program are eligible for the limited services offered.

Services that are available in the summer:
Treatment for illness
Treatment for injuries
Immunizations
Rapid testing for strep and mono, pregnancy tests, urine dipstick for infection
Tick removal
Physical exams for permit employees, travel abroad
Prescriptions and OTC as indicated
Emergency contraception (Plan B)
Referrals to specialists
Services that are not available in the summer:
GYN exams/birth control starts
STD screening
Blood draws
Current Skidmore employees are eligible to receive:
immunizations and first-aid in the event of accident or injury during work hours.
We are unable to act as your primary care provider.
Messages
Important Information Regarding the Flu
Influenza like illness is defined as: fever of 100°F (37.8°C) or higher and a cough and/or sore throat in the absence of a known cause other than influenza.

Flu shots are available at most local pharmacies and may be covered by insurance.
Suggested self-care items include:
- Over-the-counter medications:
Pain and fever relievers (acetaminophen, ibuprofen or naproxen)
Nasal decongestants
Cough suppressants Take all medications according to package instructions; call your primary care provider with any questions.
- Sore throat spray or lozenges
- Alcohol-based hand cleaner
- Thermometer
- Tissues
- Face masks

Skidmore Students Information Regarding Flu
Missing Classes: contact the Registrar's Office (registrar@skidmore.edu) and connect with your instructors.
If you need assistance navigating your academic obligations while ill, contact the Office of Academic Advising (advising@skidmore.edu)

Order Meals:
Students who have the flu and are on meal plans may order meals for pick up from the Dining Hall by calling x5851, x5844, or x5891. Leave a message with your name and student ID# as well as the meal you are looking for. Then arrange for someone to go to the Dining Hall to pick up your meal. Make sure they have your student ID card with them.
Breakfast pick-up time 8-9am.
Lunch pick-up time 11am-noon.
Dinner pick-up time 5-6pm.

Seek Medical Attention if you have acute symptoms such as body aches, cough or a fever of more than 100°F. If you get worse after being treated for 3-4 days, return to Health Services for a recheck to make sure you have not developed a secondary infection. Those with chronic health conditions, such as asthma, or complications should notify Health Services.
If a student has an emergency, please call Campus Safety (518-580-5566) or go to a hospital.
Additional information regarding this season's flu outbreak may be found at:
http://www.health.ny.gov/diseases/communicable/influenza/seasonal/
http://www.cdc.gov/flu/about/disease/index.htm
Information for the Skidmore Community Regarding This Year's Flu Season
Information for the Skidmore Student Community Regarding This Year's Flu Season
Mumps on college campuses
December 16, 2016
Several colleges in NYS and across the country have been experiencing outbreaks of the mumps virus on their campuses. There are no cases of mumps at Skidmore. However, there are currently 63 cases of mumps at SUNY New Paltz and 14 cases at SUNY Geneseo, as well as, cases in their respective middle and high school students.
Mumps is a disease caused by a virus that infects salivary glands. Symptoms may include low grade fever, body aches, loss of appetite, headache, and swelling of the salivary glands on one or both sides of the jaw. Symptoms generally last for a week and full recovery occurs within a few weeks. Complications rarely occur.
The virus spreads through direct contact with saliva from an infected individual, i.e. respiratory droplets from a cough or sneeze. The incubation phase, the time of exposure until onset of symptoms, is 10-25 days.
Mumps can be spread easily because an infected individual can spread the virus 2-3 days prior to salivary gland swelling and for 5 days after swelling began. This means that the mumps virus can spread easily in communal settings where people are in close contact, especially on a college campus (classes, residence halls, sports teams, etc.). In recent years there has been an increase in the number of mumps cases in the United States and numerous outbreaks among college students have been reported.
New York State mandates that all college students receive 1 dose of mumps vaccine, within 30-45 days of arrival on campus. The vast majority of Skidmore students have received the mumps vaccine. It is up to 90% effective in preventing mumps.
To protect yourself and others from mumps, in addition to vaccination, the following is recommended:
Stay home when you are sick
Don't share drinks, cigarettes, or eating utensils
Cover your coughs and sneezes
Wash your hands often with soap and water
Clean and disinfect surfaces
Talk to your healthcare provider about getting vaccinated if you haven't already
Health Services has been in close contact with Saratoga County Health Department about the recent mumps outbreaks. The Public Health Department has been providing updates and would serve as a resource in the case of an outbreak situation.
Below are 2 links from the CDC with additional information.