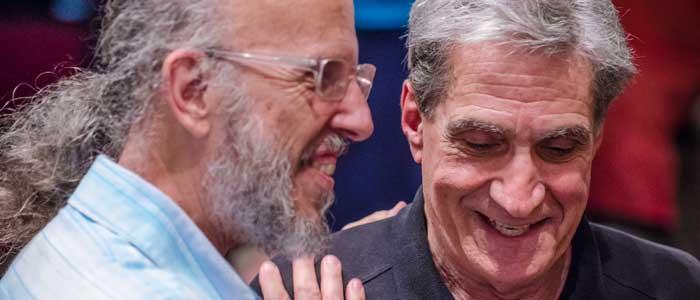 Who Should Apply to the Writers Institute?
The 2017 application will be available January 9, 2017.
Since its inaugural season in 1987, the New York State Summer Writers Institute has drawn students from all over the world. Students have ranged from 20 to 99 years of age. The Institute is intended principally for students who have had at least one or two previous workshop experiences. It is definitely not for high school students or college freshman. Approximately 50 percent of the program participants are undergraduate or graduate students.
Experience the Workshops and More!
The Institute offers its workshops for undergraduate credit (4 credits), as well as noncredit. Students may enroll for two weeks (July 3-14 or July 17-28) or for the entire four-week session (July 3-28). Only four-week students may receive academic credit. Standard three-hour class meetings are held each Monday, Wednesday and Friday from 1:00 to 4:00 p.m. Workshop class meetings are mandatory. Each workshop is primarily built around discussion of student works, which are collected in early June and run off in multiple sets so that students may receive them throughout their stay at the Institute, a few at a time, to be read in time for the various class meetings. Some instructors also assign writing exercises (optional) and recommend brief readings that are not written by workshop students for classroom discussion. There are approximately 16 students per workshop. An extraordinary staff of distinguished writers, among them winners of such major honors as the Pulitzer Prize and the National Book Award, serve as the Institute's faculty.
Readings, Discussions, and Events
Q & A's with visiting writers and special panels are scheduled between 2:00 and 4:00 p.m. every Tuesday and Thursday and are open only to students enrolled in the Institute. Public readings, interviews, and discussions by faculty and visiting writers are scheduled at 8:00 p.m., Monday through Friday. A complete listing of public readings is available on the Skidmore College Event Calendar in the spring. Please note this listing is subject to changes. Student readings are on Sunday afternoons and evenings. Other special weekend events include a barbeque picnic for students and faculty, publishing symposia, film viewings, and discussions on "Writing Historical Fiction" and "Fiction Into Film". Although these sessions are optional, they are highly recommended and enrich the overall Institute experience.
Special Writers Institute Festival
"Writers Speaking In Voices Not Their Own"
The 2017 Institute will feature a special "festival" in which writers discuss the virtues of speaking in voices NOT their own, of attempting to imagine the lives of others not like themselves and making every conceivable kind of "difference" palpable and compelling. The festival will feature a half dozen writers, each of whom will read from a work in "another voice" and discuss the pleasures and perils of escaping from the prison house of the single self and inhabiting the perspective of other, sometimes alien selves. The emphasis will be upon celebrating the freedom of writers to create what they wish, while asking two basic questions: First: How can writers successfully inhabit the experiences of others? Second: What obligations do writers take on when they attempt to do this? The Keynote speaker at this festival will be LIONEL SHRIVER, the author of many novels and, most especially, of the Orange-prize-winning We Need To Talk About Kevin, which was made into a successful feature film starring Tilda Swinton. Shriver's many works of fiction include So Much For That, The Mandibles and Big Brother, among others. Her journalism appears regularly in such publications as The NY Times, The Wall Street Journal and The Economist, and also in a regular column she has contributed to The Guardian since 2005. SHRIVER will sit on several panels with other writers during the festival and read from, and discuss, her own work.
2017 Workshops
How to Select a Workshop: Applicants are encouraged to select the workshop which seems most appropriate and attractive to them, but the Director and Associate Director of the program will make the final determinations about placement based upon review of the required writing sample and other relevant factors, including previous workshop experience.
Workshop Title

Two-Week Options (non-credit)

Four-Week Options
(credit & non-credit)

FICTION 1
INTERMEDIATE

July 3 – 14, 2017: Elizabeth Benedict and Adam Braver (one week each)

July 17 – 28, 2017: Garth Greenwell and Cristina Garcia (one week each)

July 3 – 28, 2017: Benedict, Braver, Greenwell, Garcia

FICTION 2
ADVANCED

July 3 – 14, 2017: Howard Norman and Mary Gaitskill (one week each)

July 17 – 28, 2017: Amy Hempel and Paul Harding (one week each)

July 3 – 28, 2017: Norman, Gaitskill, Hempel, Harding

FICTION 3
MASTER CLASS

July 3 – 14, 2017: Joanna Scott and Adam Haslett (one week each)

July 17 – 28, 2017: Rick Moody (both weeks)

July 3 – 28, 2017: Scott, Haslett, Moody

NON-FICTION
INTERMEDIATE & ADVANCED

July 3 – 14, 2017: Memoir & Personal Essay with Phillip Lopate (both weeks)

July 17 – 28, 2017: Miscellaneous Forms (including memoir) with James Miller (both weeks)

July 3 – July 28, 2017: Lopate and Miller (two weeks each)

POETRY 1
INTERMEDIATE & ADVANCED

July 3 – 14, 2017: Campbell McGrath and Vijay Seshadri (one week each)

July 17 – 28, 2017: Peg Boyers (both weeks)

July 3 – 28, 2017: McGrath, Seshadri, Boyers

POETRY 2
ADVANCED & MASTER CLASS

July 3 – 14, 2017: Master Class with Robert Pinsky and Rosanna Warren (one week each)

July 17 – 28, 2017: Advanced and Master Class with Henri Cole (both weeks)

July 3 – 28, 2017: Pinsky, Warren, Cole

NOTES
How to Submit Workshop Manuscripts: In early May, a letter will be sent from the director to all enrolled students providing detailed instructions on how to submit their manuscript(s) that will be reviewed in the workshop(s). The instructions will include length requirements, format and specific dates when manuscripts are due (typically first week of June). All manuscripts must be received by the deadline indicated in the letter and must be addressed to:
Robert Boyers, Director
New York State Summer Writers Institute
Skidmore College
815 N Broadway
Saratoga Springs, New York, 12866-1632
Students who are enrolled in a two-week workshop with two different instructors—each of whom will be teaching for one of the two weeks—will have their manuscript reviewed by one instructor, not both. Students may request one of the instructors rather than the other when they submit their manuscript, and though the program directors will try to accommodate requests, they cannot guarantee that this will be possible in every instance.
Extra Manuscript Tutorial Sessions
A fiction writer-in-residence reads entire student novels or extensive fiction works in progress—not collections of stories—and meets with students on a tutorial basis. Other distinguished writers-in-residence read book-length poetry or non-fiction manuscripts and offer advice for revisions and eventual book submissions. The extra manuscript tutorial fee is $400.
Students enrolled in Fiction 1, 2, or 3 who are writing novels are invited to register for intensive tutorial sessions with writers-in-residence Amy Wallen. The writers-in-residence will read and discuss with students entire novels up to 300 manuscript pages in length.
Students enrolled in poetry or non-fiction workshops who are preparing book-length collections are invited to register for private sessions with Honor Moore, who will offer criticism and advice on manuscripts up to 90 pages in length (poetry) or 150 pages (non-fiction).
Tutorial fee: $400.
How to Register for a Tutorial: In early May, a letter will be sent from the director to all enrolledstudents with detailed instructions on how to register for a tutorial session. Once accepted students receive this letter, they may access the Manuscript Tutorial Registration Form here (available beginning April 27th).