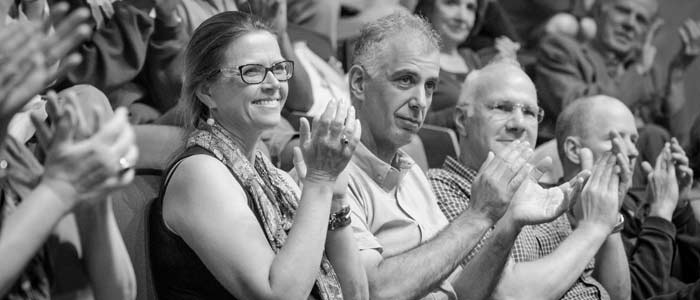 Amy Wallen, Adam Braver, Henri Cole & Rick Moody enjoying a reading – photo by Jim McLaughlin
Free Public Readings in July

The New York State Summer Writers Institute at Skidmore College features FREE public readings each weeknight at 8 PM in July – Joyce Carol Oates, Jamaica Kincaid, Michael Ondaatje, Mary Gaitskill, Robert Pinsky & many others. All events begin at 8 PM in Davis Auditorium, Palamountain Hall. View our Public Reading Schedule here.
---
2017 Visiting Writers
Paul Auster is one of the most celebrated writers in the country, author of many novels, including The New York Trilogy, Invisible, Sunset Park, and Man In the Dark, several of these translated into 35 languages. His work is described in the London Sunday Times as follows: "Always riveting…The combination of scrupulous style, psychological depth, story value, and parable like undertones is masterly." A reviewer for the Washington Post Book World writes: "A philosophical novelist but also one of our most playful, a lover of narrative labyrinths on a par with Borges."
Russell Banks is the author of Cloudsplitter, Continental Drift, The Book of Jamaica, and many other works of fiction. Banks's novels Affliction and The Sweet Hereafter (three Cannes Film Festival awards) have been made into successful feature films. His novel Rule of the Bone was praised by Cornel West as the work of "a great writer wrestling with the hidden secrets and explosive realities of this country." The Darling is Banks' political novel. ("Russell Banks's twentieth-century Liberia is as hellish a place as Joseph Conrad's nineteenth century Congo. The only creatures that behave with humanity are the apes. A dark and disturbing book," writes Michael Ondaatje.) Banks's latest novel (2011) is Lost Memory of Skin. Janet Maslin in the New York Times: "Destined to be a canonical novel of our time…delivers another of Banks' wrenching, panoramic visions of American life."
Ann Beattie is the author of many books, including The New Yorker Stories, Park City, Love Always, Another You, Perfect Recall and Picturing Will. Michiko Kakutani writes of her in the NY Times: "To say that Ann Beattie is a good writer would be an understatement. Her ear is faultless, her eye ruthless as a hawk's." Lorrie Moore wrote of her, also in the NY Times, as follows: "One feels amazed at the confidence, steadiness, and quality of her writing." Among her many awards is the Rea Award for Short Fiction.
April Bernard is a poet, novelist, and essayist. Brawl & Jag, her fifth collection of poems, is out from W.W. Norton in spring 2016; Miss Fuller, a novel, was published by Steerforth Press in 2012. Her previous books of poems are Romanticism, Swan Electric, Psalms, and Blackbird Bye Bye. Bernard is a regular contributor to The New York Review of Books and other journals. She has received a Guggenheim fellowship in poetry and the Stover Memorial Prize. Educated at Harvard University, she worked in book and magazine publishing in New York City, and has taught at Barnard, Yale, Columbia, Amherst and Bennington colleges. She is Professor of English and Director of Creative Writing at Skidmore College.
Nick Flynn won the PEN/ ALBRAND Award for The Art of the Memoir for his book Another Bullshit Night in Suck City. The Reenactments is another memoiristic book which chronicles Flynn's experience during the making of the film Being Flynn. A third memoir is The Ticking of the Bomb is the Bomb. Flynn is also the author of three volumes of poetry, including Some Ether (which won the PEN/ Joyce Osterweil Award) and The Captain Asks For a Show of Hands. Elisa Schappell wrote of Suck City in Vanity Fair: "A remarkable feat: a clear-eyed, inventive and astonishingly honest guided tour of hell."
Rivka Galchen is the author of the novel Atmospheric Disturbances and of a recent book of short stories entitled American Innovations (2014). The New Yorker selected her as one of its notable "20 Under 40" writers in 2010, and in recent years she has appeared frequently in such publications as the New Yorker, Harper's and the NY Times Book Review. Of her novel James Wood wrote in the New Yorker: "A relentless exploration of how a man could fail to see clearly the woman he loves… A novel that knows how to move from the comic to the painful." Laura Miller wrote of the novel in Salon: "At once mournful and playful…a droll, exquisite first novel."
Louise Glück has won The Pulitzer Prize, The National Book Award and other major prizes for her poetry, which has appeared in many volumes including Meadowlands, Descending Figure, Vita Nova, The Wild Iris, Firstborn, Ararat and Poems 1962-2012. In recent years she has taught at Yale and at the MFA programs at Boston University and Stanford. Her most recent book is Faithful and Virtuous Night.
Mary Gordon who has been The New York State Author and the winner of the REA Short Story Prize, is the McIntosh Professor of English at Barnard College. She is the author of more than a dozen books of fiction and non-fiction, including Pearl, The Company of Women, Final Payments, The Shadow Man and many others. In 1981, she wrote the foreword to the Harvest edition of Virginia Woolf's A Room of One's Own. Circling My Mother: A Memoir (2007) and Reading Jesus are her most recent books of non-fiction. In 2011, she published The Love of My Youth.
Jorie Graham won the Pulitzer Prize in 1996 for her book Dream of the Unified Field. Other volumes of her poetry include Erosion, Materialism, The Errancy, Swarm and Place. She is the Boylston Professor at Harvard University and the recipient of a MacArthur "Genius" Award, among many other awards. The US Poetry Foundation says that "She is perhaps the most celebrated poet of the American post-war generation.
Allan Gurganus is an award-winning novelist and short story writer whose work includes WhitePeople, Plays Well With Others, The Practical Heart and Oldest Living Confederate Widow Tells All. Gurganus is at work on a new novel entitled TheErotic History of a Southern Baptist Church, and often writes op-ed pieces for the New York Times and other newspapers. Robert Wilson, editor of The American Scholar, calls him "the rightful heir to Faulkner and Welty," and a recent reviewer for the New York Times Book Review writes that he is "a story-teller in the grand tradition who can tell his stories as well as anyone alive." Library Journal, in a review of Plays Well, describes it as "rich, protean, profligate, gorgeously written…Gurganus's fiction runs rampant with sexual and creative energy." Gurganus's short fiction appears in the New Yorker and has been included in the O'Henry Prize Stories, BestAmerican Stories and the Norton Anthology of Short Fiction.
Siri Hustvedt is the author of five novels, including The Blindfold, The Enchantment of Lily Dahl and What I Loved. She is also the author of several works of non-fiction, including The Shaking Woman (Or A History of My Nerves). Of her work Oliver Sacks has written: "Siri Hustvedt, one of our finest novelists, has long been a brilliant explorer of brain and mind," while Salmon Rushdie describes her as "a rare artist, a writer of high intelligence, profound sensuality and a less easily definable capacity for which the only word is wisdom." Of the novel What I Loved Janet Burroway wrote in the New York Times: "a page turner written at full intellectual stretch, serious but witty, large minded and morally engaged." Siri Hustvedt has taught at Columbia University, Yale University and NYU, and in the spring of 2011 delivered the 39th annual Sigmund Freud Lecture in Vienna.
William Kennedy is the author of Ironweed (Pulitzer Prize, National Book Critics Circle Award), Quinn's Book, Legs, The Ink Truck, Very Old Bones, Roscoe and The Flaming Corsage. Kennedy, who also wrote the film version of Ironweed (1987) and co-scripted The Cotton Club with Francis Ford Coppola (1986), is the winner of a MacArthur Award, a Brandeis Creative Arts Award, an a New York Arts Award. He is the founding director of the New York State Writers Institute at Albany. His latest novel is Chango's Beads And 2-Tone Shoes. New York Times Book Review, front page: "Proves he can play with both hands and improvise on a theme without losing the beat…a masterwork."
Jamaica Kincaid is the author of many books, including Mr. Potter (described by Robert Boyers as "a perfect, perfectly heartbreaking novel"), Lucy, At The Bottom of the River, Annie John, My Brother, A Small Place, Autobiography of My Mother, and other books. Her most recent novel is See Now Then. Kincaid is described as follows in the New York Times: "She has the gift of endowing common experience with a mythic ferocity... She is one of our most scouringly vivid writers."
Joyce Carol Oates is a National Book Award winning novelist, short-story writer, poet, and critic, who has produced more than 30 novels and many books of stories, among them Blonde, We Were the Mulvaneys, Zombie, Foxfire, American Appetites, Bellefleur, The Wheel of Love, and A Garden of Earthly Delights. Walter Clemons wrote of her in Newsweek, "Like the most important writers…she has an absolute identification with her material: the spirit of a society at a crucial point in its history." Oates, who has had two national bestsellers (Blonde and We Were the Mulvaneys), now teaches creative writing at NYU after many years as the Berlind Distinguished Professor of Humanities at Princeton University. Her recent books include A Widow's Story: A Memoir, Missing Mom and High Lonesome.
Joseph O'Neill is the author of six novels, the most recent of which is The Dog, described in the NY Times Book Review as a work of "nightmarish subtlety" which features "an Arab intuition of Western desire" written with "consummate elegance." O'Neill's previous novel, Netherland, was one of the most celebrated books of the past decade, described by Dwight Garner in the NY Times as follows: "The wittiest, angriest, most exacting and most desolate work of fiction we've yet had about life in New York and London after the World Trade Center fell…On a macro level it's about nearly everything: family, politics, identity…O'Neill seems incapable of composing a boring sentence or thinking an uninteresting thought…The book has more life inside it than ten very good novels." O'Neill's non-fiction is collected in the volume Blood-Dark Track.
Caryl Phillips teaches at Yale University and is the author of many books of fiction and non-fiction. Dancing In The Dark (2005) was a finalist for the National Book Award ("a devastating novel," wrote Donna Seaman in a starred review for Booklist: "Given the drama and beauty of his writing and the freshness of his insights into both personal and social conundrums regarding race and identity, Phillips is in a league with Toni Morrison and V.S. Naipaul"). Winner of the Martin Luther King Memorial Prize and the James Tait Black Memorial Prize, Phillips is the author of such works as Cambridge, The Nature of Blood, The Final Passage, A Distant Shore, and The Atlantic Sound.
Francine Prose is the author of many acclaimed works of fiction, including Guided Tours of Hell, Primitive People, and Bigfoot Dreams. Her novel, Blue Angel, was hailed in Publishers Weekly as "a peerlessly accomplished performance…timelessly funny," and in Mademoiselle as a "funny yet devastating novel that will rock literary and academic worlds alike." Prose is a contributing editor of Harper's and writes for the New Yorker, Gentleman's Quarterly, and Atlantic Monthly. Recent books include The Lives of the Muses: Nine Women & The Artists They Inspired, Caravaggio, and A Changed Man. Other recent titles include the novels Goldengrove and Lovers At The Chameleon Club. Her recent non-fiction books include Reading Like A Writer, and Anne Frank.
Victoria Redel is the author of the novels Loverboy and The Border of Truth, as well as two books of short stories and two volumes of poems. Loverboy was made into a successful feature film directed by Kevin Bacon and starring Kyra Sedgwick, and the book was named a Best Book of the Year by the Los Angeles Times. "Lyrical and chillingly realistic," wrote the reviewer for Elle. In Publishers Weekly, The Border of Truth was described as "colorful, endearing…Redel offers a welcome and fresh perspective on the subject of the holocaust." Of her latest book of stories, Make Me Do Things (2013) William Kennedy writes: "The stories here zing along with great fluency and wit and relentless surprise…a wonderfully talented writer." Redel teaches in the MFA program at Sarah Lawrence.
Lionel Shriver the author of many novels and, most especially, of the Orange-prize-winning We Need To Talk About Kevin, which was made into a successful feature film starring Tilda Swinton. Shriver's many works of fiction include So Much For That, The Mandibles and Big Brother, among others. Her journalism appears regularly in such publications as The NewYork Times, The Wall Street Journal and The Economist, and also in a regular column she has contributed to The Guardian since 2005.
Charles Simic, a former Poet Laureate of the United States, won the Pulitzer Prize in Poetry for The World Doesn't End, and is the author of many books, including Jackstraws, Night Picnic, Hotel Insomnia, A Wedding in Hell, Walking The Black Cat, Unending Blues, and Dismantling The Silence. His non-fiction books include The Uncertain Certainty, Orphan Factory, and a memoir titled A Fly In The Soup. He writes regularly on poetry and other matters for the New York Review of Books.