Off-Campus Study & Exchanges

Comments from former London FYE students
"The first year London experience is an incredible opportunity, and I am so beyond happy that I was able to and chose to do this program. I would recommend it to anyone. Studying in London, with classes that utilized the city so much was such a valuable experience." (Julia '18)
"The best part about taking classes in London was the involvement of the city itself in respect to what we were learning in class. When we were discussing the different sections in London (particularly the slums of London prior to the 20th century) in my "History of London" course, our professor showed us exactly where these slums existed and we even saw a lot of the architecture that still existed. It was incredible to see the history we were reading about in text books, right before our very own eyes." (Ricardo '18)
"London is probably my favorite city in the world, and I loved the feeling of being a local--how it became normal to see Big Ben or the London Eye." (Denise '18)
"We went to a lot of great places in Art and Architecture class. Not just the typical museums though; we went to the Somerset House, the Leighton House and other great places that I didn't know about and wouldn't have known to go to if it weren't for the class." (Julia '18)
"I loved the ability to travel to surrounding countries in Europe. I also enjoyed the fact that all of my teachers took great advantage of the city by taking us on field trips and making something that we saw in a PowerPoint, real." (Rachael '18)

"One of my favorite aspect of classes in London was that you really got to know your professors. The class sizes were on the smaller side (roughly 16 students per class) which enables you to really talk to your professors. They take you on cool field studies and it is obvious that they are very passionate about what they do." (Colleen, '17)

"The best part of the courses and field trips is that they center around the city in some way. You don't just sit in a classroom and talk about Charles Dickens, you take a five minute walk and tour his house. All of the teachers at IES are wonderful, and love to share their unique perspectives on the city as locals." (Kate '17)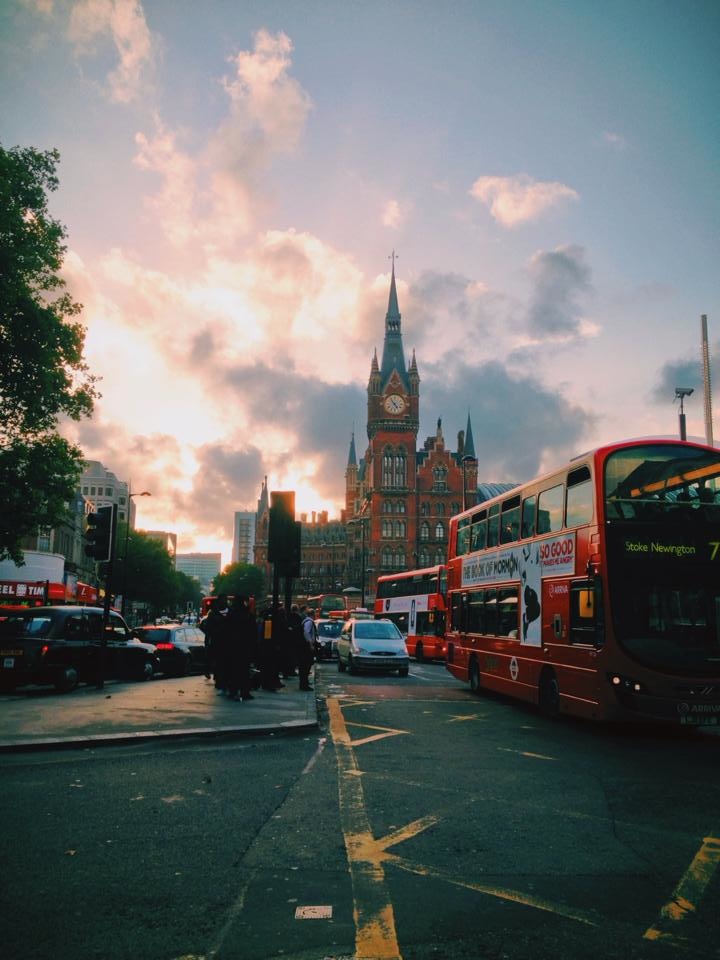 "Classes are amazing! You learn of a painting in a class and can walk out the door and see it for yourself in a museum for free!" (Madeline '14)

"We bought our own food and every night we would walk around the residence hall to see what other people had cooked and share stories from that day." (Emery '14)
"I think the London First-Year Experience opened my eyes to how big the world really was, and gave me the desire to want to learn about everything I could about the world and different cultures and to explore the world further." (Karen '12)
"I would definitely recommend this program to students. Although living abroad requires certain adjustments, living in London brought me so many new positive experiences. All the wonderful activities London has to offer are really great, but experiencing all of it with some really quality students truly made the trip what it was." (Yasmin '11)
"This program was fantastic! Because of this past semester, I can officially say that I have learned and grown to love international culture, studies, and people. This program provides a great way to benefit from all that Skidmore cannot offer on campus." (Hartley '11)
"
The most exciting part of my classes was seeing first-hand what we were studying. In British Art and Architecture we studied the Gothic revival of the 19th century. Not only was I living in one of the world's best examples of this kind of architecture, but we took a spontaneous field trip to walk around the Houses of Parliament. In another class, we stood in front of Jan van Eyck's portrait, Giovanni Arnolfini and his wife, in the National Gallery in Trafalgar Square. How many students get to do this?"
(Lindsey, '10)
"Between London's multicultural districts, pubs, museums, theatres, architecture, and easy travel opportunities to all parts of Europe, this is a once-in-a-lifetime experience for anyone looking for an atypical first-year semester." (Ted '08 )
"It is so fulfilling to move far away and start a life of my own. I feel so much more mature and independent. The whole London experience opened my eyes to foreign cultures and helped me understand more about American culture as well." (Blair '08)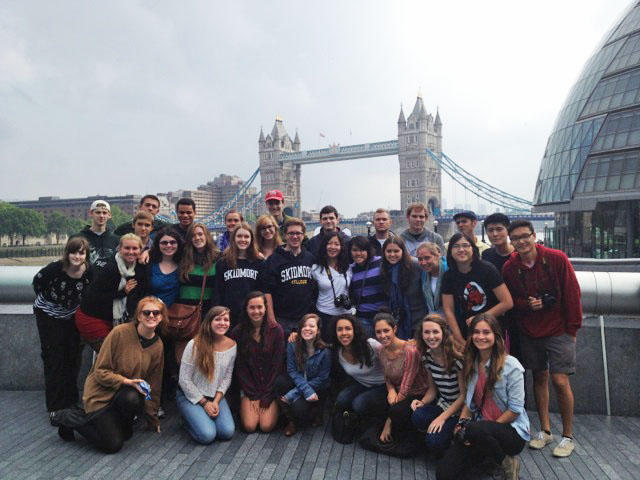 "I recommend the London program because it forces you to adapt not only to college life, but to a different country and culture. It's amazing to see how much is out there for you to experience, not only in London but throughout Europe. Adventurous students shouldn't hesitate to sign up. No other college that I know of offers this type of experience right out of high school." (Matthew '07)
"The London program helped me to become even more independent. I'm totally comfortable booking airfare, locating hotels, and finding my way around cities where I don't speak the language. The experience was also a good transition to college life: after being in a foreign country, college wasn't anywhere near as scary." (Corrie '07)
Accepted Candidates Days – April 2017
If you are attending one of Skidmore's upcoming Accepted Candidates Days on April 7th, April 12th, or April 17th, please stop by the Off-Campus Study & Exchanges table during the Meet the Skidmore Community session from 11:30 am-12:15 pm in the Sports Center to talk with students that spent their first semester in London and Off-Campus Study & Exchanges staff. The two faculty directors may also be available to answer questions as well as the Director of the First-Year Experience. There will also be a panel discussion about the program with former London First-Year students and staff from the offices of the First-Year Experience and Off-Campus Study & Exchanges from 1:30 pm-2:30 pm in the Davis Auditorium.

To register for one of the Accepted Candidates Days, visit http://www.skidmore.edu/admissions/visit/acd.php or call 518-580-5585.
Facebook
Be part of the Class of 2021 London FYE Facebook group! The Facebook group is for students that are considering or are confirmed for London FYE in fall 2017. It's a great place to "meet" the other students that are going to London, ask questions, and interact with students that have already studied in London.
Contact former London FYE students
If you'd like to contact students that have already spent their first semester at Skidmore in London, please contact Anna Burnett, the London FYE program manager in Off-Campus Study & Exchanges, at aburnett@skidmore.edu for a list of former London FYE students that have agreed to be contacts for prospective students.